Talvi's room is probably my favorite room in our entire house. Maybe it's because she's the baby in our family, or maybe it's the labor of love that went into the wallpaper. Regardless, we often find excuses to spend time in her room.
We waited to redecorate her nursery until after she arrived. This was for many reasons, but I've come to the conclusion that I'm not aloud to decorate or choose paint colors when my hormones are wacky. That's a long story for another day! I chose a simple, minimal and soft color palette for the nursery. We had some time to get to know our sweet Talvi Rue before creating her room, and this suits her perfectly. She's a bundle of loving kindness and we all can't get enough. Even her big sister if you can believe it!
A few things about the thought process and how I selected items. The hardest part of making any room feel whole or cohesive is the finishing touches. The wallpaper is the statement, and really we didn't need to add much more as it warms up the room so nicely. We chose white walls to offset the floral pastels in the wallpaper, and soft white draping for her window and her closet. Again, spend the money on a smart closet system. You won't regret it!
The Wallpaper: If you read our previous blog about Kiersa's toddler room, you'll know that we used an actual wallpaper product there. This room is different. The wallpaper you're seeing is actually a custom made-to-size mural. It's a semi-permanent peel and stick (although it is thicker and almost nicer than the wallpapers we have used in the past!). There was approximately a week of mudding, sanding, more mudding and more sanding to get this wall smooth. The curse of the late 60's wall texture! From there we hung the paper that came in 4 large sheets. With the help of my dad, we almost had WWIII getting this hung because it is the stickiest substance on the planet. It was WORTH IT! And our marriage survived.
Little Details: As stated in my previous post, I like to add details that have meaning to any room in our house. The mini rocking chair was Matt's when he was a baby. It's circa the late 70's and wonderful. Talvi loves to climb in and rock away! I made her a wall hanging from Homer Spit driftwood and scrap lace, silk ribbon and yarn. She was there when we picked up the driftwood on the beach and it's a place that's very meaningful to our family. The hung photo is the second of two (which I mentioned in the previous blog) that I purchase at an art museum in Minneapolis in my twenties. I knew they would grace the walls of my children's rooms someday, and here they are. The bookshelves are one of my favorite details. It makes so much sense to save room and declutter your floor space by using hanging shelves.
Take a look around and we hope you'll love her room as much as we do!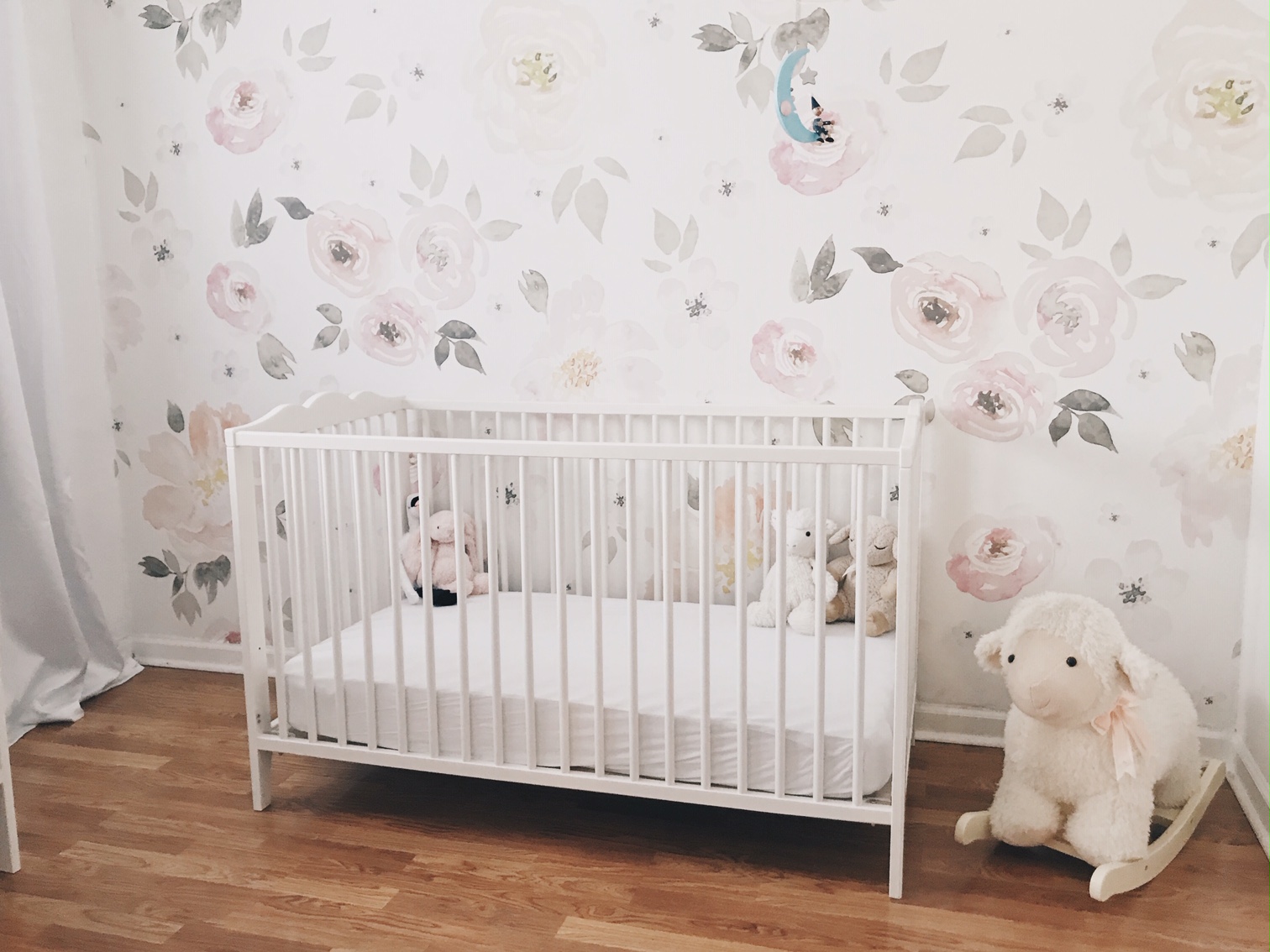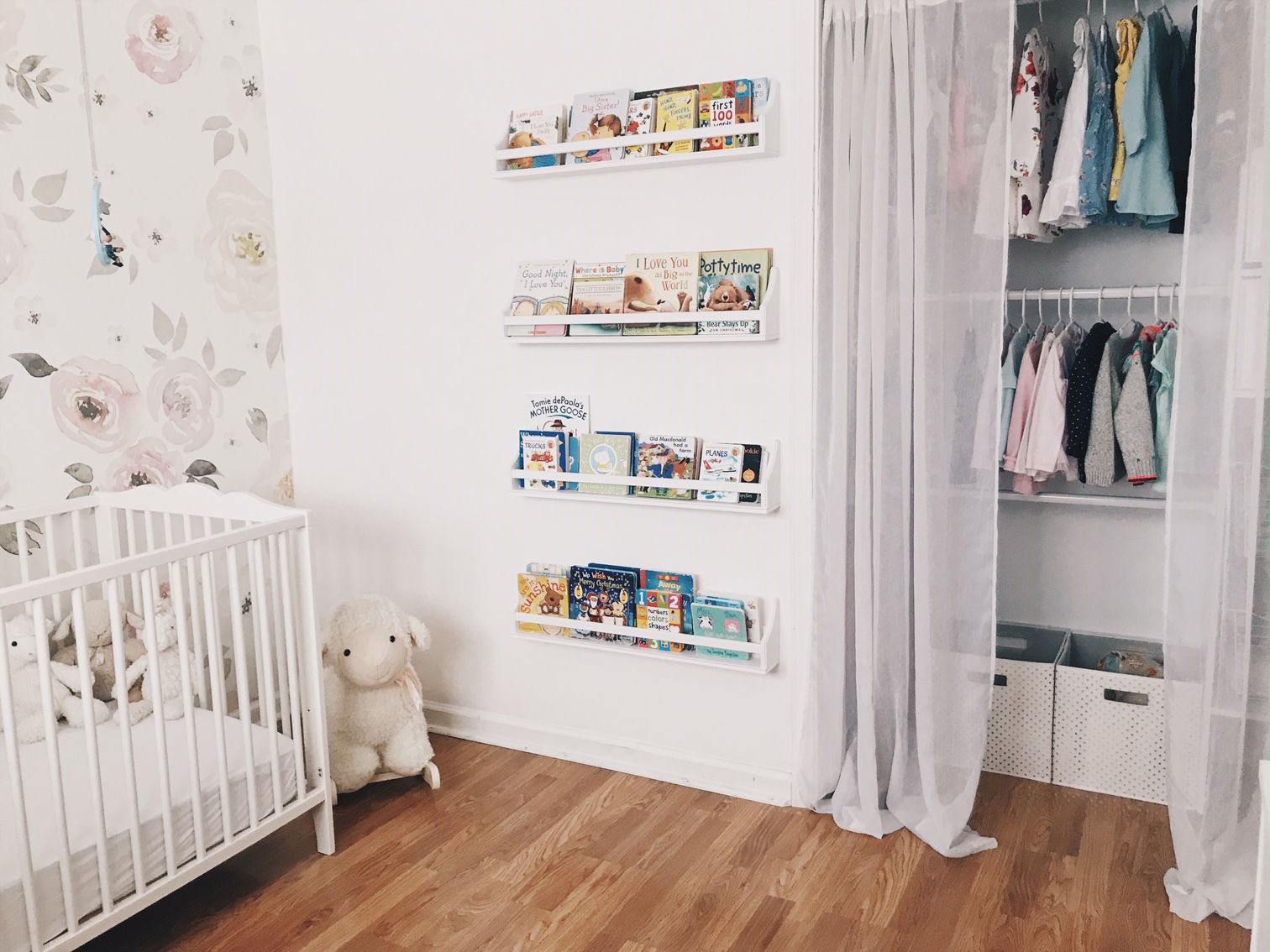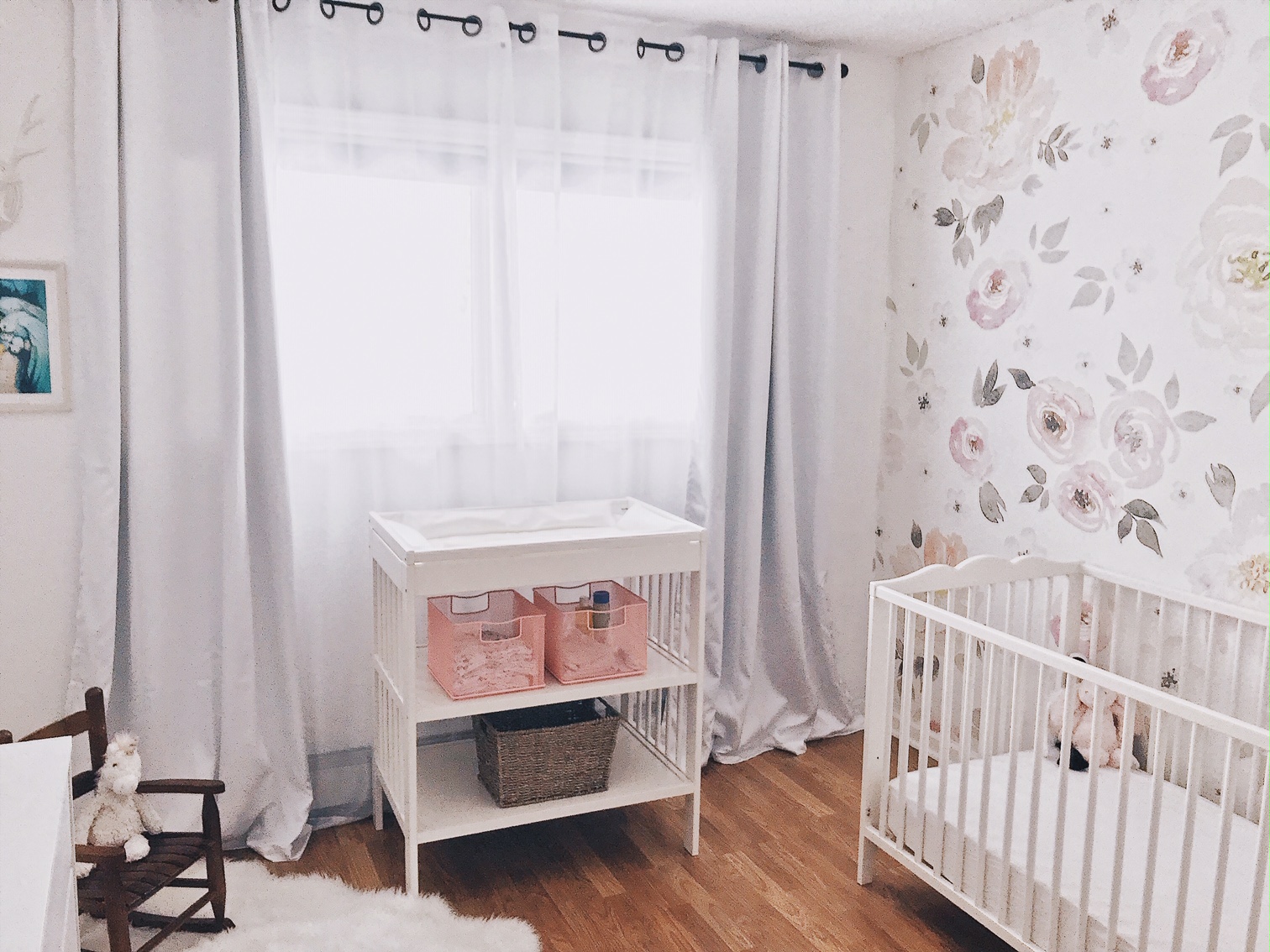 Resources:
Wallpaper - Etsy.com
Crib/Changing Table - IKEA via Shop and Deliver by LuLu
Bookshelves - Amazon